Light touring fullys – the best downcountry bikes 2023
Downcountry mountain bikes are the latest trend in the constantly evolving mountain bike industry. The term "downcountry" refers to lightweight, sporty touring full-suspension bikes with 120 millimeters of travel.
The direct relatives – you could say the parents – of the downcountry bikes are the crosscountry bikes. With only 100 millimeters of suspension travel, the cross-country bikes are very puristic. They were trimmed fully on propulsion to achieve best performance in competitions. However, the fun in the terrain with such bikes often falls by the wayside. Therefore, many bikers began to tune their cross-country bikes for more off-road fun. So in the end, hobby racers have installed longer forks with 120 millimeters of suspension travel, tires with more punch and telescopic seat posts. The industry picked up on this trend from the bike scene. Marketing departments deleted the word "cross" from the category name of race bikes and replaced it with "down" as a symbol of downhill fun. And ta-da – one of the most fun mtb categories of all time was born: The downcountry bike. Downcountry bikes are therefore more fun-oriented on the single trail than race bikes, but are lighter and have more propulsion forwards than trail bikes with 130 millimeters of travel. (All mountain bike categories are explained in detail here in a separate article). If you're particularly keen on descending fun on tours and are willing to be a little more comfortable uphill, you might also want to check out the trail bikes in this article here.
Features of a downcountry bike:
120 millimeters of fork travel
telescopic post
frame usually derives from a race fully
good rolling 29er tires
For whom is a downcountry bike the right choice?
A downcountry bike is the ideal choice for all those who like to tackle long tours with many meters of altitude, without too much extreme terrain. Even the occasional marathon use or the start at a cross country race is possible without any problems with these bikes, due to their sporty orientation. The low weight, the good rolling tires and the sporty seating position provide excellent propulsion. The telescopic support increases the freedom of movement on the bike and thus its off-road capability. The longer 120mm fork not only has more travel and therefore more reserves in the downhill. They are, thanks to their dimensioning, also significantly more torsionally stiff than the slender 100 millimeter forks and can therefore be steered more precisely through terrain. This increases the riding pleasure extremely, especially for riders over 80 kilos. If you love to ride fast and uphill, you can buy a downcountry bike with a clear conscience. Even on tours with 60-80 kilometers, the downhill is far from a bumpy chore, but a lot of fun. If you are fully fixated on the downhill, you will probably be happier with other bikes. A trail bike, all mountain or enduro probably make more sense to you. With more suspension travel, these bikes are also more suitable for extreme terrain.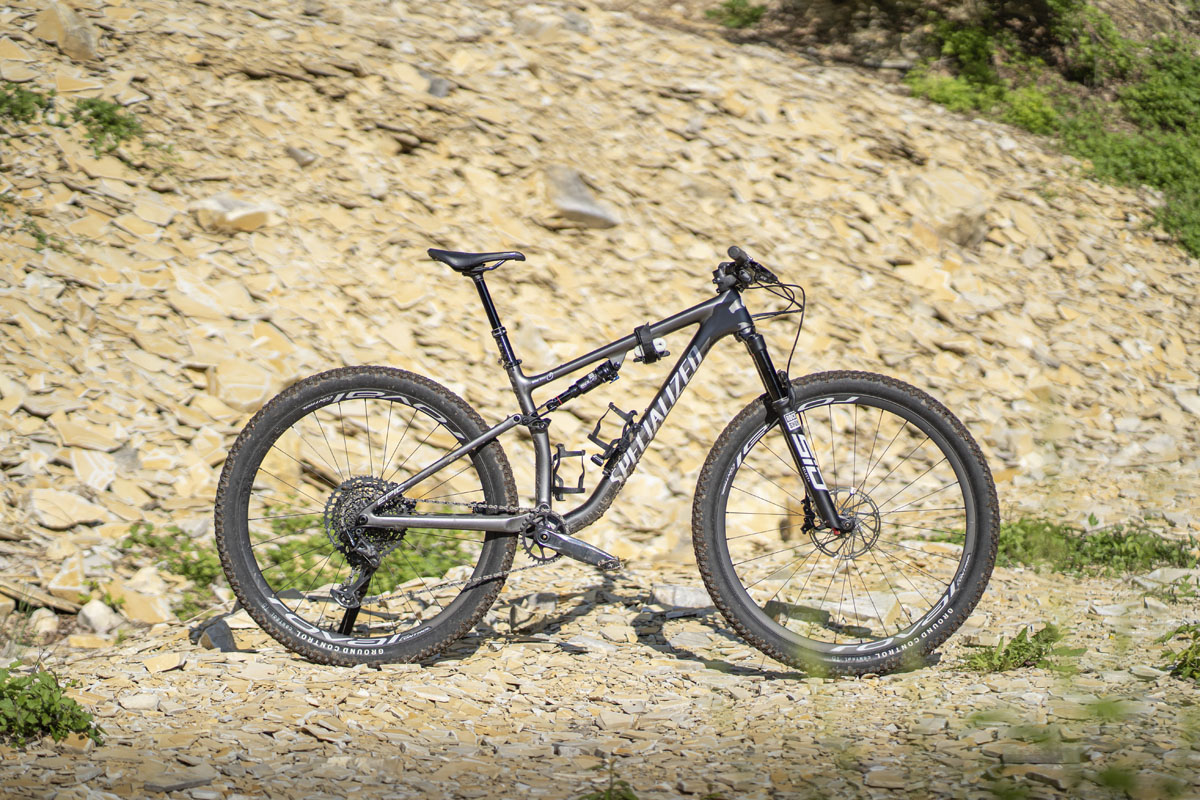 This is what you should definitely consider when buying a downcountry bike
Downcountry bikes are known for their light-footed, zippy feel. This sets them apart from the somewhat more sedate trail bikes or all-mountain bikes. The low overall weight and good, lightweight wheels are the decisive factors for a wonderful riding experience. Conversely, it can be said that a heavy downcountry bike with poor wheels exudes little charm. So when buying a downcountry bike, you should definitely look for a high-quality frame and good wheels. In addition, a gear shift with high bandwidth is extremely important on long tours. After all, if you want to climb steep mountains while still pedaling along on easy descents, you need a wide gear range (i.e. a big difference between the lightest and heaviest gear).
Since the low total weight is a key factor for riding pleasure in downcountry bikes, we have prepared a weight table for you. The weight table is based on data we have collected after a complete analysis of the market and it shows you what you can expect in each price range.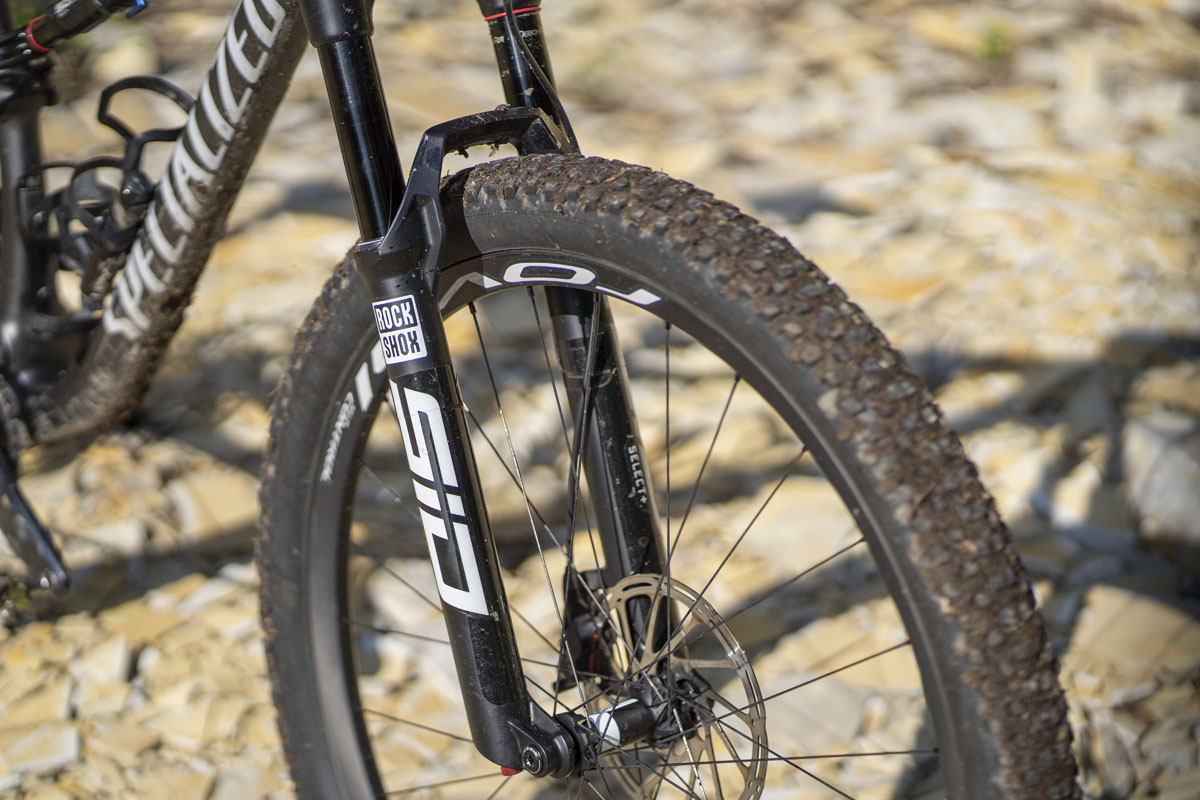 How much does a good downcountry bike cost?
Here comes the bad news: if you want to buy a good downcountry bike, you have to dig a little deeper into your pocket. In order to combine the low weight with good downhill characteristics, manufacturers must resort to high-quality equipment. A downcountry bike therefore almost always has a carbon frame, often even carbon wheels. Only with low weight, downcountry bikes actually make sense. Even if it sounds a little out there, but under 4000 € you should usually not bother with a downcountry bike. If you have a smaller budget, we recommend switching to either a trail bike or a hardtail.
We have an article with the best trail bikes 2023 here.
A buyer´s guide for mountain bike hardtails can be found here.
The advantages of downcountry bikes:
very good climbers
low total weight
very good for long tours or alpine crossings
good propulsion
the disadvantages of downcountry bikes
are not for extreme descents
often puncture-prone tires
are not designed for big jumps
the really good models usually cost over 4500 €
The full downcountry selection at a glance
Traditional comparison tests of magazines or websites always suffer from the preselection of an editor. A selection of 8-12 test bikes can never reflect the range of the complete market. That's why we have developed bike-test.com, an absolutely innovative evaluation system for mountain bikes. So here we can give you test reports and recommendations for each of the more than 160 available downcountry bikes. And you can narrow down the diverse market with our filters, according to your preferences.
The best downcountry bikes under 4500 € – expensive entry-level
Who wants to spend up to 4500 € for a downcountry bike, already has the choice between finest carbon frames. The Orbea, as well as the KTM and the Canyon are among the classics in the downcountry segment. They are not only fun downhill, but also allow for occasional marathon use. All three bikes offer the possibility of mounting two bottle cages.

all Downcountry Bikes under 4500 €
The best downcountry bikes under 6000 € – riding fun guaranteed
Also under 6000 € the bikes from Canyon set the tone. In addition, Cubes new AMS and the Scott Spark RC joins the best bikes in this price range. Scott classifies its Spark RC as a classic race bike. Although Nino Schurter won the 2021 Cross Country World Cup with it, we count it as a downcountry bike because of its 120 millimeters of fork travel. In this price range, electronic shifting and the top suspension systems from Fox and Rock Shox are already in use.

all Downcountry Bikes under 6000 €
The best downcountry bikes under 8000 € – lightweight construction meets downhill fun
Sense or nonsense may be put aside, but the premium bikes from BMC, Pivot, Orbea and Mondraker make a really good figure. There is no longer any reason for criticism in these exclusive companions. The weight of all bikes is already around 11.5 kilos. Visually and in terms of equipment, you can only lick your fingers.

all Downcountry Bikes under 8000 €
The best downcountry bikes for 8000 € and more – a biker´s dream
When money is no object, it's time for premium suppliers. Specialized, Scott and Pivot dig deep into the pockets of their customers, but deliver everything you can long for as a biker. The electronic gears are just as standard in this price range as the carbon wheels. For most bikers, however, at these prices it will be: Dream On!

all Downcountry Bikes above 6000 €
For fullys under 2000 € we have a separate article with the best offers of the 2023 season.
CONCLUSION on DOWNCOUNTRY BIKE TEST 2023.
"Downcountry bikes are not a marketing gimmick of the industry, but are really fun on the trail – and are here to stay. Especially sporty touring riders will love this bike because of its light-footed approach. It is precisely this feeling that significantly sets them apart from the somewhat more sedate trail bikes. With these light touring fullys you can ride an alpine crossing or start at a MTB marathon. Downhill, they exude significantly more reserves than a racefully because of the better tires, the 120 suspension fork and the telescopic post. The biggest drawback of these bikes remains their relatively high price."
In this article, author Ludwig Döhl has incorporated his experience from over 100,000 kilometers in the mountain bike saddle.