You want to buy an enduro bike? These are the best Enduro MTBs 2023
An Enduro MTB is a beast in the downhill. Our comparison test reveals the wonderful variety in the Enduro MTB segment in 2023.
Give it the full send mode! With robust parts, extremely grippy tires, ample suspension travel and sophisticated geometries, the current Enduro MTB´s push the limits of what is possible downhill.
Do YOU really need an Enduro MTB?
If you want to have maximum enjoyment when mountain biking downhill and are regularly on extreme single trails, and occasionally even in the bike park, then you can´t go wrong with an enduro mountain bike. But you gonna have to earn it! Becaue it´s gonna take a few extra liters of sweat on the climb before descending into the gnar – unless you have the luxury of riding a chairlift up the hil! With the rigorous focus on the downhill, you have to accept a fairly high total weight with mostly just moderate climbing characteristics. If you want to give it a good go in the descents, but at the same time you like to ride long tours with lots of elevation gain, you'll probably be happier with an all-mountain or trail bike. So be honest with yourself. From my own experience I can only say: You can pedal an enduro mountain bike uphill, but it's no fun to ride a long tour with 1000 meters of altitude! If the touring aspect is important to you, you should rather look around among the all-mountain bikes. A modern all-mountain bike with a thick suspension fork, 29er wheels and current geometries makes downhill already extremely fun. In jumps or on extreme bike park trails it has less reserves however.
The weight is an important factor when looking for a new bike. How much a good Enduro MTB weighs, can not be said in general terms. The weight is extremely dependent on the price of the enduro bike. The honest truth: Even expensive Enduros are not super light. In order to classify the weight of enduro bikes, we have prepared a weight table for you with real data from our market analysis.
180 millimeters of suspension travel can sometimes also be too much
Just a few years ago, there was not only the enduro mountain bike category (formerly exclusively 160 millimeters of suspension travel) but also the MTB genre of freeriders (180 millimeters of suspension travel). However, due to influences from enduro racing, the two mountain bike types have merged into one bike category. Freeriders are therefore almost extinct. Instead, within the Enduro segment, you have the choice between bikes with 160er forks (Rock Shox Lyrik or Fox 36) or chunky 180er forks (Rock Shox Zeb or Fox 38). The focus of the respective bikes is clear: the more suspension travel, the more potent the bikes become in the downhill. Conversely, however, this also means: the more suspension travel, the heavier the bike and the more strenuous the uphill.
If you weigh over 90 kilos, we would always advise you to choose a bike with a big fork and 180 millimeters of suspension travel. Also because the 38er standpipes of these forks twist less. With 60 kilos of body weight you probably do not need this vast suspension travel. You can save the extra weight on the fork. The additional stiffness provided by the thicker stanchions also doesn't really help a lightweight rider. In short: The lush suspension travel of 180 millimeters does not automatically make an enduro better for every rider. The suspension travel must fit you and your intended use. For regular bike park trips, big jumps or a body weight of over 85 kilos, bikes with 180 millimeters of suspension travel make sense. For light riders or for touring on the home trails, bikes with 160 millimeters of travel or less are usually more fun.
What to pay attention to when buying Enduro MTB
For unrestrained riding fun on the single trail, the chassis, the seatpost, the tires, the geometry and the brakes are particularly important for an Enduro MTB. In our large Enduro MTB market overview, we have therefore looked at these assemblies very closely. In addition to adjustable rebound, the compression damping of the fork and shock should also be separately adjustable. In addition, you should make sure that generally high-quality parts are installed. The retrofitting of spring elements can be extremely expensive. For a new high-quality Fox 36 or Fox 38 fork it can cost 1000 € and more. Here it is actually worth to look closely at the components right from the outset. In addition to the profile, the rubber compound and puncture protection are the most important factors for tires. The seatpost must be retractable at the touch of a button and brakes should have 4 pistons per caliper and 180 or even 200 disc brakes. In terms of geometry, the current trend is towards extremely flat steering angles (65 degrees and flatter). In combination with a long main frame (high reach value), this gives a lot of security in downhill. (Detailed information on the geometry dimensions you can read here). All these factors we have considered in our Enduro mountain bike test.
How much does a good Enduro MTB cost?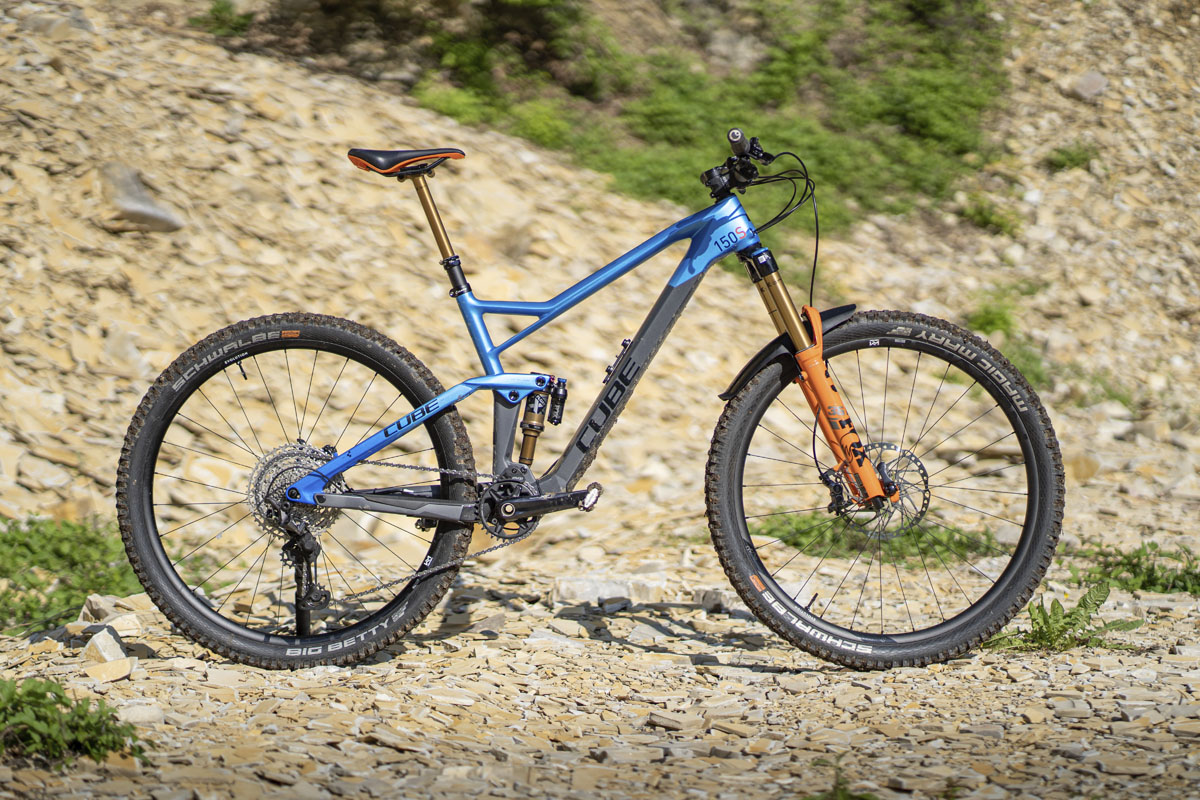 In principle, there are enduros from 2500 euros. The question of how much a GOOD enduro costs, of course, depends largely on how you define the word "good". In this article we give you an estimate of what you can expect for your money when buying this type of bike. As a general rule, you can say: From around 3000 € the fun starts! Because we do not want to confuse you when buying an enduro MTB, we have evaluated all models available in our market overview and neatly prepared them for you. Depending on how you set the price filter, we show you which bike on the market is best for you. This service is only available at bike-test.com.
The best Enduro MTBs for under 3000 € – balling on a Budget
If you want to buy an enduro for less than 3000 €, you don't have to ask yourself the question about the frame material. Only enduros with aluminum frames are offered in this price range. The fact that there are almost only bikes from direct mail order companies like Propain, Radon, or Canyon in this price segment also shows that the calculation is hard-fought. The bikes on offer usually weigh well over 15 kilos, which severely restricts touring suitability and uphill riding fun. You also have to be prepared to make compromises when it comes to the equipment. Very inexpensive components are often used, especially for the gears and wheels. On the other hand, most models already have strong brakes with four pistons per caliper and reasonable suspensions.
all Enduro MTBs up to 3000 €
The best Enduro MTBs for under 4500 € – mid-range models
In the price range between 3000 € and 4500 € the fun begins in the enduro segment. In this price range there are not only numerous models with carbon frames, but also damn well equipped bikes. Bikes like the Cube Stereo 150 C:62 SL 29 fall back on the competition material of the pros in the chassis. Although this bike cost only € 3999, it leaves nothing to be desired in the chassis. Due to the higher-quality equipment and the carbon frame, the pounds of the bikes also fall to mostly under 15 kilos. This makes touring possible even with ample suspension travel. Exclusive, hip brands such as Specialized, Santa Cruz or Rocky Mountain can hardly be found in the price range up to 4500. Their range is usually even more high-priced. However, it must be emphasized that many models under the 4500 € mark from Cube, Radon, YT and Canyon can already keep up with the high-priced competition.

all Enduro MTBs up to 4500 €
The best Enduro MTBs for under 6000 € – entry level luxury models
Enduros between 4500 and 6000 € can be described casually in one sentence: The luxury begins. In the price range you can not only count on a carbon frame and a top equipment, but also has for the first time the possibility of bikes from exclusive brands such as Santa Cruz, Spezialized or Transition fall back. However, you have to make a clear consideration in such a case. Because while German, price-aggressive brands such as YT, Canyon, Cube or Propain already deliver a bike in the top equipment, you get a good frame, but often only a mediocre equipment with the American noble forges. In terms of chassis, gears and brakes, the bikes of the noble brands often retain some tuning potential.

all Enduro MTBs up to 6000 €
The best Enduro MTBs for under 8000 € – cool, but no longer cheap
Under € 8000, the market already offers extremely good wheels. Premium chassis meet sophisticated rear end concepts. The driving fun in this price range really nothing more stands in the way.

all Enduro MTBs up to 8000 €
The best Enduro MTBs for 8000 € and more – pure luxury
Let's leave the sector of reason. If money is not an issue for you when buying a bike, you can also look at enduro bikes for €10,000 and more. In this price range, the latest rear end concepts meet electronically controlled chassis and gears. Carbon is used where carbon can be used and the weights fall partly even to under 14 kilos. There is hardly any reason for criticism in this price range. If you look at the matter soberly, however, you also have to say that even bikes for under €6000 hardly ride worse than the fanciest prestige models available on the market. Anyone entering this price range must love technical gadgets and be willing to fork over a certain percentage of the purchase price just for image reasons. If this description fits you, then take a look at these bikes here at your leisure. Connoisseurs can hardly hold back already when reading the names Santa Cruz Megatower, Pivot Switchblade or Spezialized S-Works Enduro.

all Enduro MTBs above 8000 €
CONCLUSION on the subject of ENDURO MOUNTAINBIKE TEST 2023
"The market for enduro mountain bikes in 2023 is as diverse as last year. The most important question you need to ask yourself before buying an Enduro MTB is whether you want to get a bike with 160 or rather 180 millimeters of suspension travel. Our tip: With 160 millimeters, most riders can easily cope. 180er bikes are only worthwhile with high body weight and regular bike park use. After we have analyzed the entire market, there is still good news: Price-aggressive brands Canyon, Cube, Radon or Propain already build extremely good enduros for 3000 to 4000 €. If you want to spend more, you can get extremely nice bikes from hip US manufacturers like Specialized or Santa Cruz."
In this article, the author Ludwig Döhl has incorporated his experience from over 100,000 kilometers in the mountain bike saddle.