Trail bikes – the best all-rounder mountain bikes of the 2023 season
Trail bikes are the perfect companions for MTB tours or alpine crossings. Let´s raise the curtain for the best all-rounder MTBs 2023.
The sport of mountain biking is insanely diverse. The different category terms such as all-mountain, enduro, downcountry or trail bike are often confusing for mountain bike beginners. Not only beginners are therefore often overwhelmed when buying a bike. (In this article we explain what is behind the different mountain bike types). Even if one knows what is behind the different mountain bike types, as a mountain bike beginner, it´s still hard to know which type of mountain bike suits you best. The simplest solution to this problem: buy an all-around bike. And that's exactly what these trail bikes are: real all-rounders.
This makes trail bikes real all-rounders
Trail bikes have 130 millimeters of suspension travel at the fork and usually 120 to 130 millimeters of suspension travel at the rear. Trail bikes are always full suspension. Trail bikes that don't have full suspension, are called trail hardtails. (You can check them out here) If you look at the suspension travel, these all-around bikes fall right into the middle between the descent-hungry enduros (160 mm of travel) and the sporty, propulsion-tuned race bikes (100 mm of travel). With telescopic seats installed as standard and well-profiled tires, they also master technical descents. However, the moderate overall weight and the efficient design of the chassis also allow long tours through lots of different terrain. So you could say: trail bikes can do it all, but none of it really well. Enduros (160 mm travel and more) and all-mountain bikes (150 mm travel) ride better downhill. Downcountry or race bikes are more mile-hungry. If you know exactly what you want to do with your new mountain bike before you buy it, you can also prioritize your purchase decision better. If you mainly want to ride trail tours in the low to mid-range mountains or are toying with the idea of crossing the alps, then you will most likely be happy with a trail bike.
Advantages of trail bikes:
extremely good all-rounders
many affordable models to choose from
very good for long tours or alpine crossings
low total weight
good propulsion
Disadvantages of trail bikes:
rides worse downhill than an Enduro
rides worse uphill than a racebike
is not designed for big jumps
This is what you should pay special attention to when buying a trail bike
To meet the demands of an all-rounder, it is particularly important that a trail bike does not drift into the extreme in any area. Weak brakes or tires with little punch reduce the downhill fun. Fat downhill tyres and generously dimensioned suspension elements drive up the weight of the suspension. If the total weight is too high, it kills the bike's touring ability and thus screws up the basic idea of a trail bike. In addition, a good gearshift with a high bandwidth is particularly important for trail bikes. Because if you want to cross the alps with a bike, you need a light climbing gear and a heavy gear to go the distance on flat sections. Modern 1×12 drive trains offer exactly that.
This is important for a trail bike:
suspension fork with 34 or 35 stanchions
air damper without balance tank
high-quality gears with high bandwidth (500% and more)
In addition, a low total weight is essential for having fun on your trail bike. Therefore, we have prepared a weight table for you. So you can better estimate what to expect in your preferred price range. The weight table is based on real data, which we have collected after a complete analysis of the market.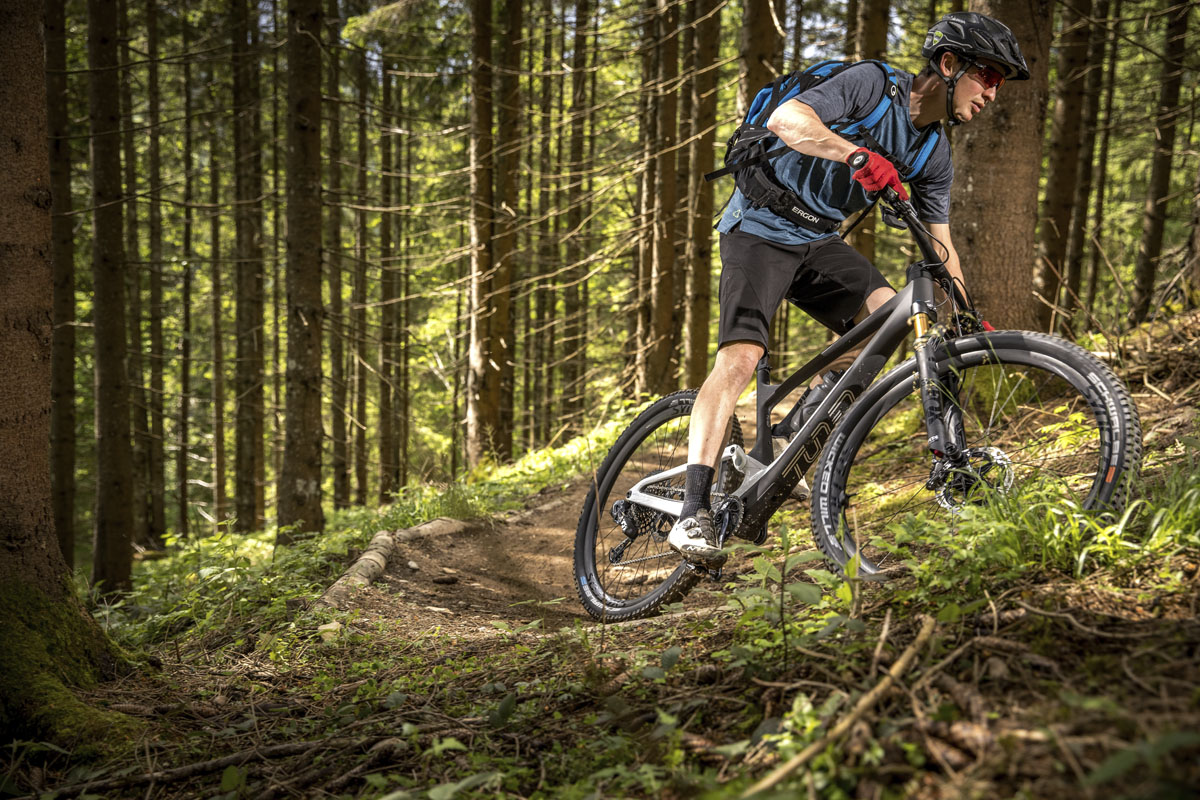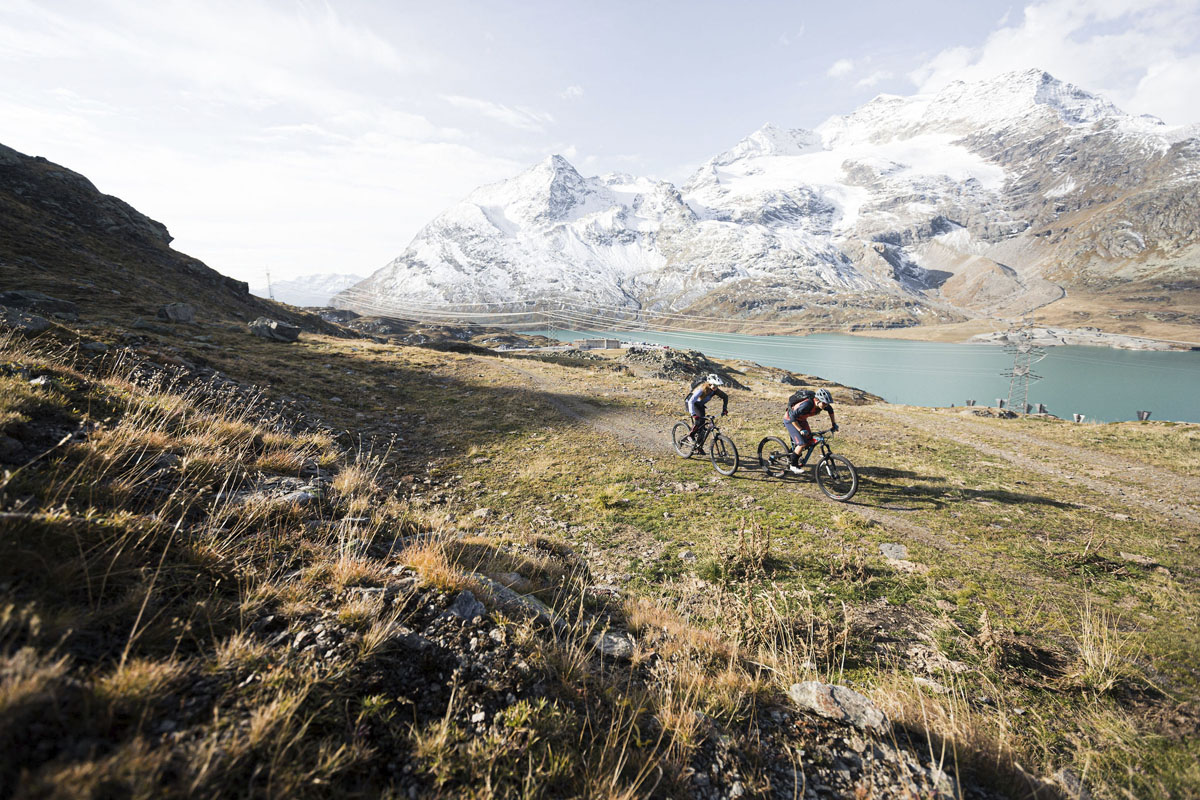 How much does a good trail bike cost?
The main question before buying a bike is of course: How much do I have to spend on a trail bike in order to have fun with it? (A general estimate of how much mountain bike you get for your money can be found here). In contrast to all other bike categories, there is already a considerable market for trail bikes under 2500 €. Brands like Cube, Radon, Giant, Focus or Merida know that mountain bike beginners don't want to spend a lot of money on their first bike. And they also know that as a beginner you first need a versatile bike. This is a good way to try out all the possibilities of the sport. The relatively inexpensive bikes work well, but are clearly behind the more expensive bikes in terms of equipment and riding pleasure. If you want pure luxury, you can of course also spend 14,000 € on a Trailbike, but that´s obviously totally up to you. Only on bike-test.com you get an overview of the entire market. Our unique test system makes it possible to find the best bike for your buck among all the available models.
A complete market overview for trail bikes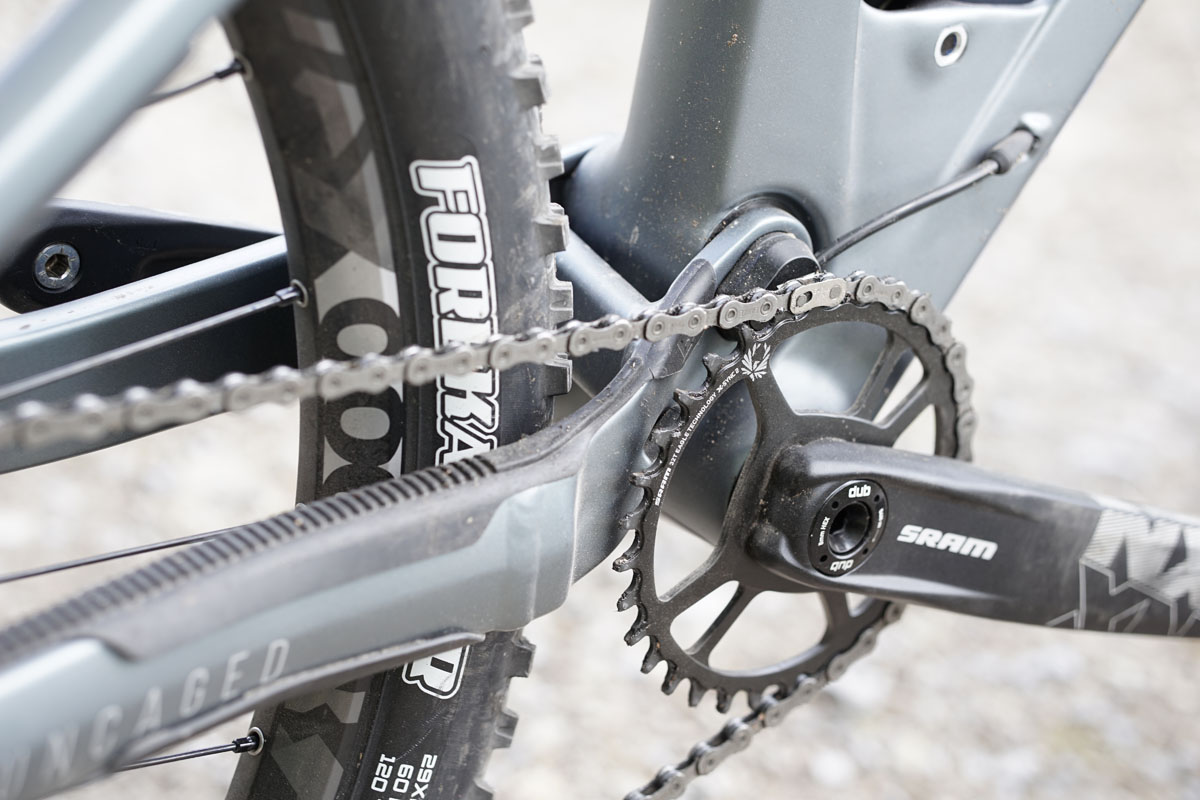 Because we don't want to push you in a purchase direction, we don't present you with a pre-selection of some test bikes, as many magazines do. Our unique test system allows us to analyze the entire market. This is the only way to find the best models for your individual budget. On bike-test.com you can find a complete market overview with over 80 trail bikes. And only on bike-test.com you can narrow down the market overview according to your individual needs.
Quicklinks to the best bikes in the most important price categories:
The best trail bikes under 3000 € – budget bikes
While Radon and Scott build bikes with aluminum frames in this price range, Cube already relies on a carbon main frame with its Stereo 120 TM HPC 29. All bikes have modern 1×12 gears and are in a weight range around 14 kilos. Especially the suspensions and the wheels offer here, compared to the more expensive models, still some tuning potential.

all Trailbikes up to 3000 €
The best trail bikes under 4500 € – first class price & performance
In the price range below 4500 €, the best models from Cube, YT and Scott already come with a stylish carbon frame. Also in terms of equipment, bikes like the Cube Stereo 120 HPC SLT 29 or the YT Izzo Core 3 leave little to be desired. The high-quality chassis and shifting components give these bikes a coherent appearance. In this segment, the price-performance ratio is actually very good. Weight-wise, the good models are under 13.5 kilos.

all Trailbikes up to 4500 €
The best trail bikes for under 6000 € – go treat yourself
Even under 6000 €, the bikes from YT and Scott set the tone for trail bikes. Scott triumphs even in this price range with its absolutely innovative Spark frame with integrated shock. The Franconians of YT send their YT Izzo Core 4 for it already a Fox Factory chassis and carbon wheels to their customers home. Soberly viewed, you could also explain the thing so: Who spends over 4500 € for a trail bike, leaves the price-performance sector and surrenders to the soft luxury with exclusive attachments. The best bikes from this price range also offer models for 8000 € and more on the single trail the forehead. In terms of weight, these models approach the 13 kilo mark. Some are even below that.

all Trailbikes up to 6000 €
The best trail bikes for under 8000 € – innovative technology with a hefty price tag
Whether something makes sense or not is a relative statement. If exclusivity is very important to you, you love technical gadgets and you have the necessary money, then these bikes make sense for you. In the price range up to € 8000 come for the first time latest technical gadgets such as the electronic Live-Valve suspension from Fox on the Giant Trance Advanced Pro 1. The Scott Spark 900 AXS convinces with wireless, electronic shifting from Sram. The Pivot Trail 429 Pro there is the DW-Link rear triangle from the designer legend Dave Weagle. So every bike in this price range has its arguments, which justify the potential hole in the wallet. The weights of the bikes are here partly already well below 13 kilos.

all Trailbikes up to 8000 €
The best trail bikes for 8000 € and more – pure luxury
Who wants to spend over € 8000 for a mountain bike, must be aware of one thing: Here you leave the sector of reason! Anyone who goes out to buy a bike without any budget limit has access to bikes of the most exclusive brands. There is no longer any serious reason to criticize these bikes. In terms of equipment, all these bikes are in the top league. Weights for the complete bikes approach the 12 kilogram mark.

all Trailbikes above 8000 €
For fullys under 2000 € we have a separate article with the best offers of the 2023 season.
CONCLUSION on the subject TRAILBIKE TEST 2023
"Trail bikes are the all-rounders among mountain bikes in the 2023 season. Downcountry or race bikes are more mile-hungry. All-mountain bikes and enduro MTBs ride better downhill. If you mainly want to ride trail tours in low to mid mountain ranges or are toying with the idea of crossing the alps in the next few years, then you will most likely be happy with a trail bike. The advantage of this bike category: there are many affordable models that already promise a lot of riding fun."
In this article, the author Ludwig Döhl has incorporated his experience from over 100,000 kilometers in the mountain bike saddle.