Hardtail or Fully
You want to buy a mountain bike, but have no idea whether you need a fully or a hardtail? We explain the difference between fullys and hardtails and tell you what you need.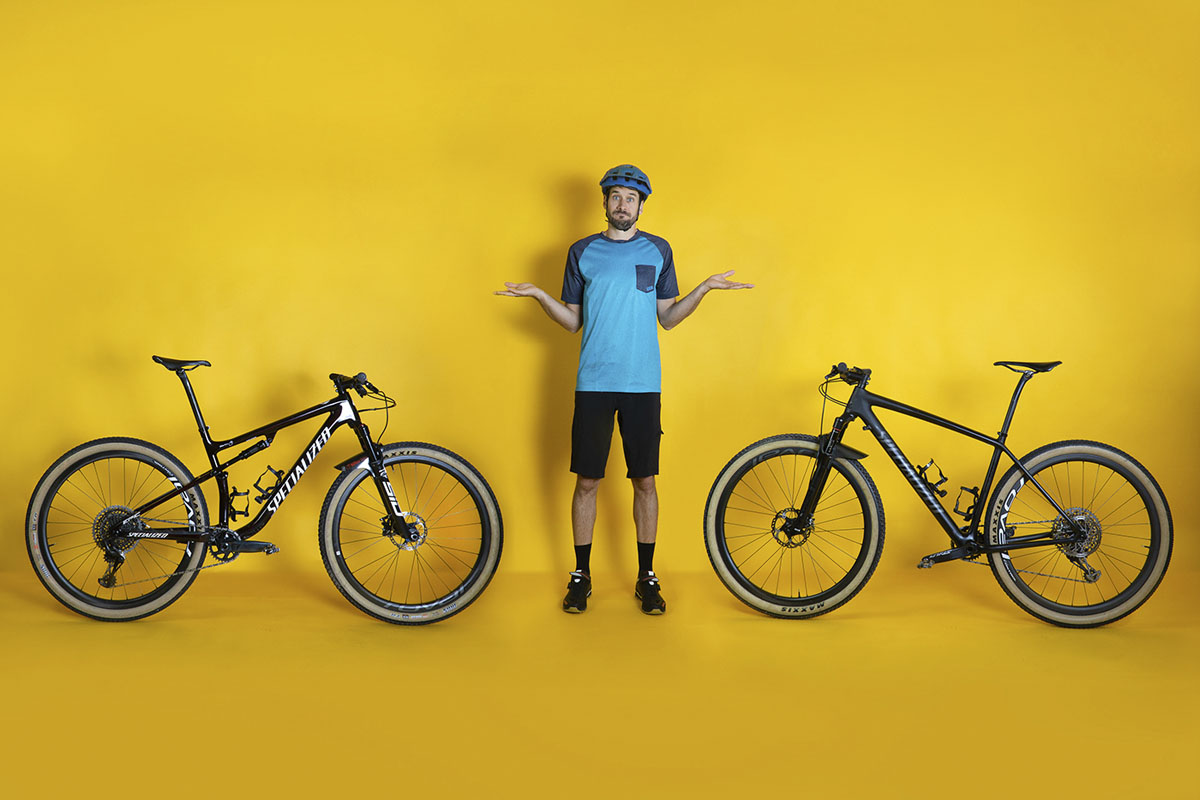 Mountain bike fullys usually cost well over 2000 €. Hardtails, i.e. bikes that only have a suspension fork and no suspended rear end, are usually much cheaper. Of course, this raises the question of what the advantages and disadvantages of full-suspension bikes are. Are the extra costs of a fully worth it for you or can you also be happy with a hardtail? With this question, you don't have to beat around the bush. If you really want to shred the downhill on trails and lines, you can't get around a fully. With increasing suspension travel (specifically upwards of 150 millimeters), even bike park use and thus big jumps and daredevil descents are possible with a fully. The suspended rear also buffers heavy impacts and thus allows a significantly higher speed downhill than a hardtail.
Fullys are not only better in the downhill because of their rear suspension.
Downhill-heavy geometries (you can find a separate article on geometries here) with a flat steering angle and long wheelbase, retractable seatposts, tires with good grip and a good chassis create a safe riding experience even for inexperienced riders. With a fully, technically demanding, steep descents are therefore conquerable even for bike beginners. This feature provides the magical aura of full-suspension Mountainbikes. The second major advantage of a fully lies in their significantly greater comfort compared to hardtails. Because the suspended rear end dampens any rough surfaces – even if you are on a forest path. It feathers large potholes or small bumps simply away and thus even protects the intervertebral discs. Off-road, a fully eases muscle fatique through its suspension and thus ensures less tiredness and soreness on long tours, especially for the upper body. In technical uphill terrain, a fully also has more grip on the rear wheel and therefore climbs better. The advantages of fullys over hardtails are significant and should not be dismissed.
What disadvantages does a fully have compared to a hardtail?
What a salesman will probably never tell you, but: compared to a hardtail in the same price segment, a full-suspension mountain bike always weighs one to two kilos more. The reason for this are the additional components that are necessary for the suspension of the rear wheel. There is on the one hand the damper (the shock) and on the other hand the necessary bearings and bell cranks for the pivots of the rear end. Another reason why fullys are in most cases heavier than hardtails is that they are usually equipped a bit more towards descending. Thick tires provide more grip, larger disc brakes are used for better deceleration, and thicker suspension forks are installed for more security in the downhill. The question of how much a good fully should weigh can therefore only be answered on a category-specific basis.
| | | | | | |
| --- | --- | --- | --- | --- | --- |
| CATEGORY | PRICE FOR A GOOD FULLY | PRICE FOR A GOOD HARDTAIL | AREA OF USE | WEIGHT fully | WEIGHT fully |
| Beginner Bikes | 1500 to 2000 € | 600 – 1500 € | Tours in easy terrain and for everyday use | 13 – 15 kg | 12,5 – 14 kg |
| Racebikes | from 2000 € | from 3000 € | Cross country and marathon racing; touring in light terrain | 10 – 11 kg | 9 – 10,5 kg |
| Down Country Bikes | from 4500 € | from 1500 € | Tours in easy terrain; easy trails; occasional race use | 11,5 – 13 kg | 11 – 12,5 kg |
| Trailbikes | from 3000 € | from 1500 € | tours in demanding terrain; alpine crossings; tours in different mountain ranges | 12,5 – 14 kg | 12 – 13,5 kg |
| All Mountains | from 4500 € | – | tours in demanding terrain; occasional bike park use; possibly enduro racing use; alpine trails | 13 – 14,5 kg | – |
| Enduros | from 4000 € | – | perfect for extreme single trails; enduro races and bike park use; alpine terrain | 14 – 15,5 kg | – |
| Downhiller | from 3000 € | – | bike park, DH racing, big jumps | above 15 kg | – |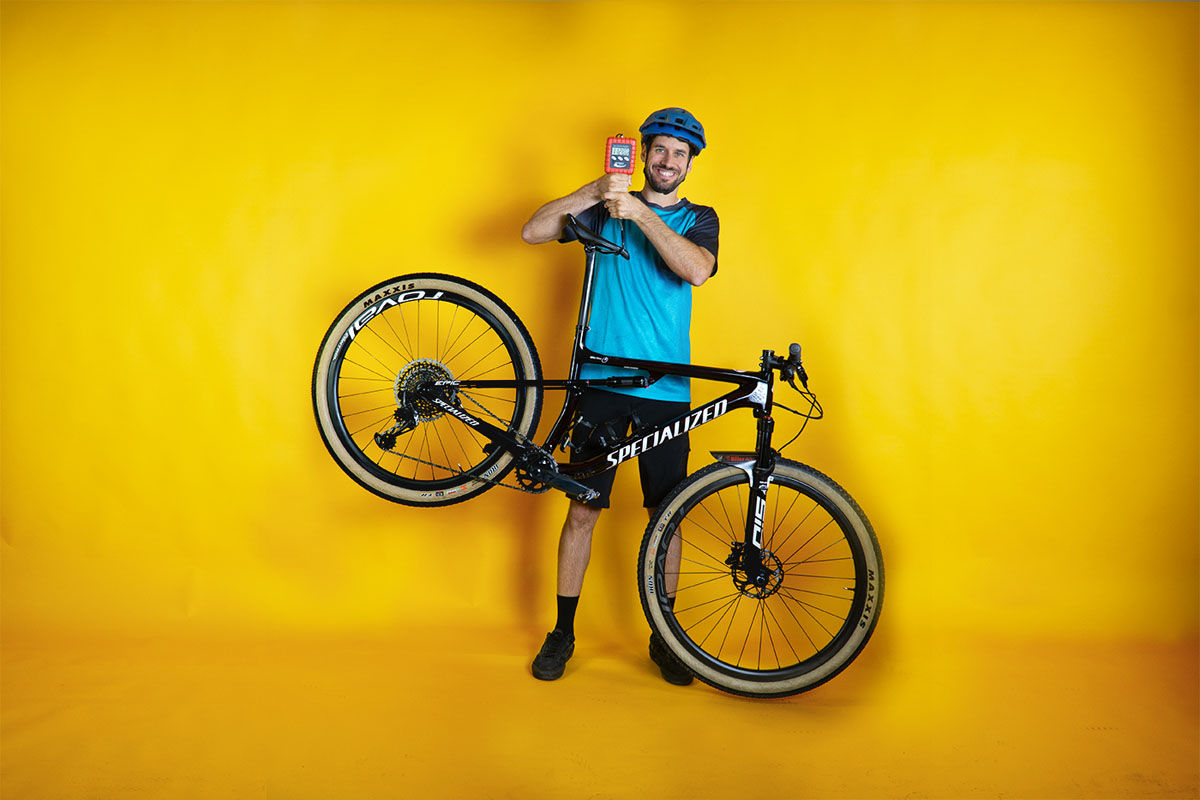 MTB fullys require high maintenance
The sometimes complex rear suspension system not only adds weight, but also often causes trouble. Fullys therefore need more maintenance. Each rear bearing should be regularly cleaned, greased or at least tightened. The service of a mountain bike fully isn´t rocket science, but its nevertheless neglected in many cases. The result: rattling or creaking rear stems which strain the nerves on tour. If a bearing is worn, it must be replaced. You don't have all these problems with a hardtail.
How much power is lost in the damper of a full-suspension bike?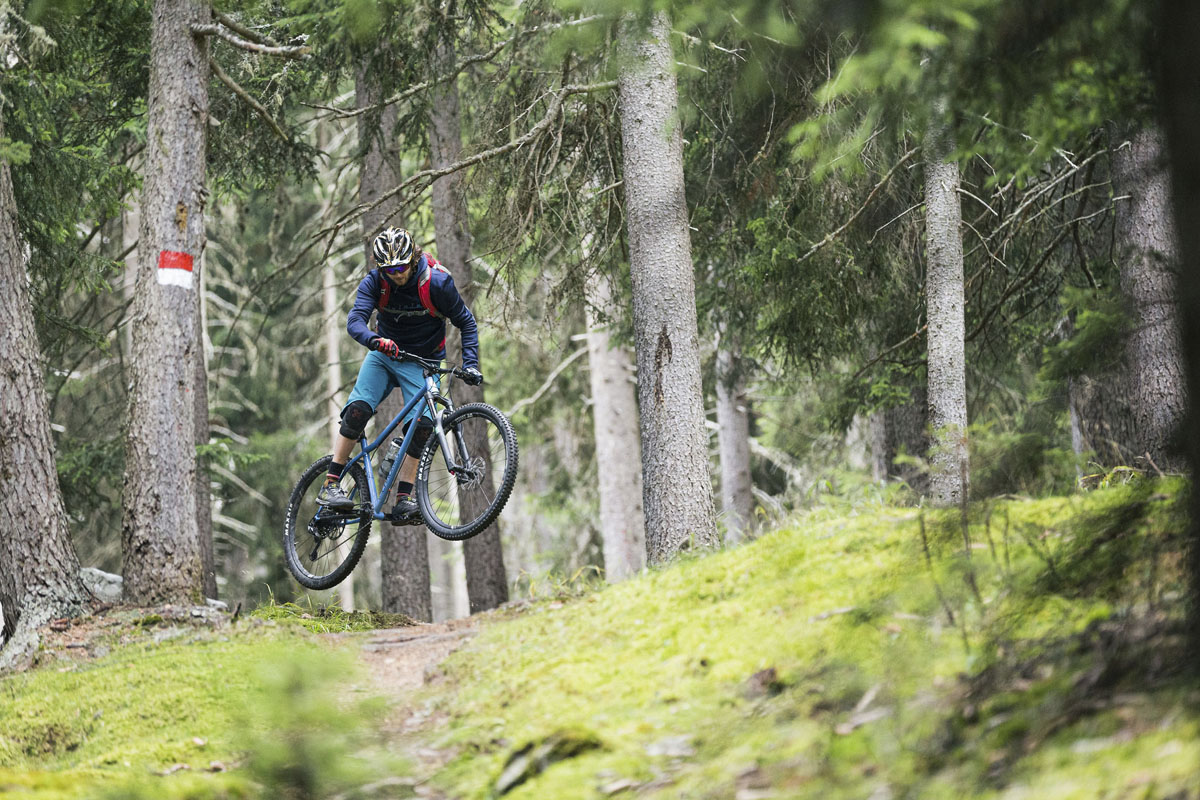 Full-suspension bikes often bob slightly when riding uphill or in the flat. Can the bobbing swallow important energy that you actually need for propulsion? In this question of how efficient fullys really are, we can clear up a few myths: Modern rear triangle systems of fullys have become so extremely good over the past decades, that most of them hardly have any significant influence. Even if the damper moves slightly, this hardly costs any power. On the contrary, off-road you are even more efficient than with a hardtail due to the additional traction and the generated grip. Especially on long tours, you can notice that a hardtail costs the whole body significantly more energy. High-quality fullys usually also have the option to quieten the damper with a platform or a lockout. With bikes from Scott or other race fullys, this can often be turned on from the handlebars. Need more proof of the high efficiency of fullys? Almost all MTB races, whether Cross Country World Cup, Marathons or Enduro races are won on fullys.
The advantages and disadvantages of fullys and mountain bike hardtails at a glance.
The advantages of MTB Fullys
more comfort
more fun in the downhill
more safety in the downhill
more efficient in the terrain
The disadvantages of full suspension mountainbikes
more expensive than hardtails
heavier than hardtails
complex maintenance
maintenance-intensive
These arguments speak for the purchase of a mountain bike hardtail
light
inexpensive
robust, because puristic
easy to maintain
In these points hardtails are inferior to fullys
less off-road capabilities
uncomfortable off-road
require better riding technique
Fully or hardtail – its a question of how much you are willing to spend
The advantages and disadvantages of fullys are now clear? But before you throw your money at a fully mountain bike, it is important that you check your budget again. Fullys are technically the superior bikes. But they are just more expensive than hardtails. While you can get a very good hardtail for 1500 €, we can only conditionally recommend most fullys in this price range. Therefore, our suggestion: If you want to spend less than 1500 euros, then buy a hardtail. Here is an article with the best hardtails in this price range. In this price range, fullys are usually just too heavy and have too many poor components installed. This really reduces the fun when riding. If your budget is around or even over 2000 €, you can think about a fully. At over 3000 €, there is actually only one reason not to buy a fully. If you do not want to deal with the technology and maintain your bike regularly, you should get a hardtail at the price range of over 3000 €. Due to their simple technology and their puristic appearance, hardtails still have a large fan base in the price class above 3000 €.
CONCLUSION on the subject of FULLY vs. HARDTAIL
"Fullys are technically the superior mountain bikes. But they are heavier, more expensive and require more maintenance than hardtails. That explains why hardtails still have a huge following more than 40 years after they were invented. A definate statement about whether you should buy a fully or a hardtail is therefore difficult to make. Ask yourself which of the above arguments are the most important for you personally and then make your decision."
In this article, the author Ludwig Döhl has incorporated his experience from over 100,000 kilometers in the mountain bike saddle.