The best mountain bike test in the world – transparent, non-biased and objective.
Mountain bike tests need to become more objective, comprehensive and detailed. That's why we founded bike-test.com. The only platform that looks at ALL bikes available on the market with an innovative testing system.
The mountain bike market is so vast and diverse that its extremely difficult to find the perfect bike for your personal needs. No matter whether you are a mountain bike beginner or a veteran bike nerd. That's exactly why ex-mountain bike pro Ludwig Döhl founded bike-test.com. After his active career as a mountain biker, Ludwig Döhl worked for BIKE, Europe's largest mountain bike magazine, for over six years. But Ludwig quit his last position as deputy editor-in-chief of BIKE to implement his own vision of Bike Test. And that vision includes a sophisticated, innovative and totally objective testing system that not only transparently sorts out the complexities of the market, but also gives you an assessment of every bike without being biased towards any brand. The intuitive filters on our mountain bike market overview site help everyone find the best bike, depending on their own personal preferences. The only question that remains is: How can the entire mountain bike market be evaluated in a uniform and, above all, meaningful way?
Which mountain bike components are used for evaluation
Overall, we look at each bike uniformly in over 100 meaningful criteria, which should give you a very good and detailed idea about the bike. Our evaluation takes into account all components that are relevant to the riding experience. The main components considered in our mountain bike rating system are:
Gearshift
Brake
Tires
Wheel
Chassis
seat post
Frame
Cockpit
The more than 100 criteria – which we evaluate in a standardized manner – are weighed up independently, depending on the intended use. And that´s the key to our statement quality. Our goal is not only to compare two rear derailleurs that are installed on different bikes, but a lot more: we want to give you an impression of the riding experience that you can expect from your future bike. And to do so, we have not only broken down and weighed up evaluation criteria in detail, but have also taken a look at the geometry of all bikes. But first things first.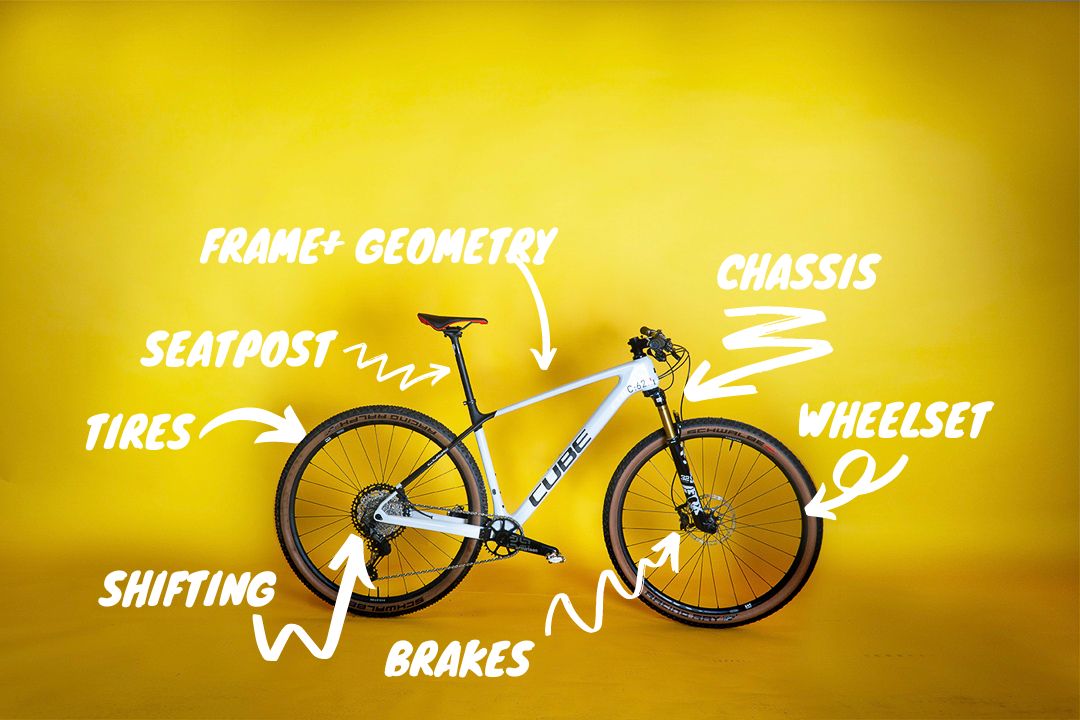 We apply these evaluation criterias to our mountain bike tests
For the evaluation of the individual components, we use, among other things, the followng criteria. They get considered differently, depending on the component and to which area of the bike this part is installed
Weight of the component
ranking in the manufacturer-specific product hierarchy
product-related physical facts (e.g. larger brake discs have better braking performance. A larger bandwidth of a gear shift is better than a smaller one…)
general design-related facts (e.g. folding tires are of higher quality than clincher tires.)
function of a component (experience from practice and everyday life in bicycle workshops)
product specific criteria (e.g. tread depth of tires)
material used for a component
Every evaluation contributes to a complete bike check on bike-test.com. Moreover, it can be traced back to one fact: EVERY BIKE, NO MATTER FROM WHICH MANUFACTURER, IS TREATED EXACTLY THE SAME. To make the whole thing as close to reality as possible, an example would be the rating of a brake for a downhill bike. It is, for example, more important at a DH bike than for a cross country race bike. This equation lends itself to get the most balanced and non-biased bike reviews on the market!
Mountain bike geometry – the soul of any bike.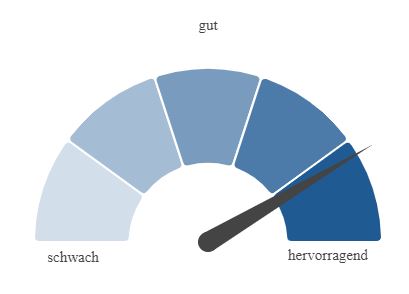 Reach, stack, steering angle …? Excuse me, but what are you talking about? Anyone who deals intensively with bikes before buying is quickly overwhelmed by the technical jargon of the industry. We therefore not only evaluate the equipment of each bike, but also take a detailed look at its geometry. (In case you're interested: We also explain the most important geometry measurements in an extra article) So that you don't have to take a degree in mountain bike science yourself, we've analyzed the geometry of all bikes in a uniform way. With this analysis, we give you the following information:
How coherent is the geometry for the area of application of this bike (geo-fun factor).
How does the seating position of this bike turn out: Sporty or comfortable?
How is the handling of this bike on the trail: playful or smooth?
Is the frame size large or small?
CONCLUSION ON MOUNTAINBIKE TESTS
"After more than 15 years working as a professional bike tester, I have learned one thing above all. The motivation for a bike purchase is completely individual. At bike-test.com, we are the only platform in the world with a complete market overview, which can be filtered according to individual criteria. In addition, our innovative and absolutely objective test system allows detailed statements about each individual model. More service and better advice is offered by no other medium before buying a bike."
In this article, the author Ludwig Döhl has incorporated his experience from over 100,000 kilometers in the mountain bike saddle.