Which bike suits me and my needs?
Spoiled for choice: Should it be a trail bike, an enduro bike or rather an all-mountain? There are so many different types of mountain bikes out there. It can easily confuse the hell out of you when trying to buy a bike. We tell you where the differences are and which bike really suits you and your needs.
The most important question to ask yourself before buying a bike, is: What do you want to do with your new mountain bike? Light touring, ripping trails or maybe even crossing the alps? Give it some thought and don´t rush. Once you have your answer, your dream bike can be determined by a very simple rule of thumb: the more suspension travel the mountain bike suspension has, the more extreme trails can be conquered with it. The table below will help you estimate which type of mountain bike suits you best. In addition, we will show you how much money you have to spend for a good mountain bike, depending on the intended use.
Generally, in addition to the mountain bike categories, there is a distinction between hardtails and fullys. Hardtails only run a suspension fork, so a suspended front wheel. Fullys also have a suspension at the back. To not overload you with information, we will explain the differences between fullys and hardtails in a separate article. This article is about the different types of mountain bikes, such as race bikes, downcountry bikes, trail bikes, all-mountain bikes, enduro mountain bikes or downhill bikes. Decisive for the classification of the MTB categories is the suspension travel. Quick hint: If you want to spend under 2000 €, you should in most cases get a hardtail. For more information on that, visit our article in our buyer´s guide.
CATEGORY
Travel (front)
AREA OF USE
WEIGHT
PRICE
Beginner Bikes
100 – 120 mm
Tours in easy terrain and for everyday use
12,5 – 14 kg
600 – 1500 €
Racebikes
100 – 110 mm
Cross country and marathon racing; touring in light terrain
8 – 11,5 kg
good Race hardtails from 1500 €
good Race fullys from 3000 €
Down Country Bikes
120 mm
Tours in easy terrain; easy trails; occasional race use
11,5 -13 kg
from 4500 €
Trailbikes
130 mm
tours in demanding terrain; alpine crossings; tours in different mountain ranges
12,5 – 13,5 kg
from 3000 €
All Mountains
140 – 155 mm
tours in demanding terrain; occasional bike park use; possible enduro racing; alpine trails
13 – 14,5 kg
from 4500 €
Enduros
160 – 180 mm
perfect for extreme single trails; enduro races and bike park use; alpine terrain
14 – 15,5 kg
from 4000 €
Downhiller
200 mm and more
bike park, DH racing, big jumps
over 15 kg
from 3000 €
The more suspension travel a bike has, the better it rides downhill. As it´s often the case in life, there is no Yin without Yang. In the case of mountain bikes, this means that the more suspension travel a bike has, the more fun it is to ride downhill on single trails, but also the more it weighs. And as the weight of a bike increases, the suitability for touring or the fun of riding uphill decreases.
True all-rounders can only be found in the middle of the MTB category range.
In forder for you to precisely imagine which bike fits your personal definition of mountain biking, below we explain each MTB category in detail. In addition, we have another article in our MTB buyer´s guide, which deals with the different MTB price ranges. In it,
we tell you how much a good mountain bike costs.
Beginner mountainbikes
What can you do with a beginner mountain bike?
Mountain bike beginners usually have one goal: they want to pay a low price before they even know whether they really enjoy biking. Mountain bikes for beginners are therefore usually inexpensive and allow for use on easy trails through simplistic and robust components. Extreme trails or use in the bike park are usually no fun with them.
How much suspension travel does a mountain bike for beginners have?
Most mountain bikes for beginners are hardtails and have 100 to 120 millimeters of suspension travel. That's easily enough for touring on easy trails.
How much does a mountain bike for beginners weigh?
Beginner hardtails usually weigh between 12.5 and 14 kilos. Entry-level fullys are another 1.5 kilos heavier, which severely limits their climbing capabilities.
How much does a good mountain bike for beginners cost?
Reasonable entry-level hardtails are available from 600 to 1500 €. If you absolutely want to start with a full-suspension mountain bike, you have to consider paying around 1800 to 2000 €.
Geometry:
Beginner mountain bikes usually have a rather comfortable seating position and playful handling. These characteristics are ideal for beginners on their first mountain bike tours.
Our tip for mountain bike beginners:
Do not be fooled by new mountain bike offers under 500 or 600 €. These bikes are more like "lookalikes" and are not really suitable for sporty off-road use. If you buy a mountain bike for around 1000 € and realize that you like the sport, you can also tune the bike with better components afterwards. Good mountain bikes are also very stable in value. So you can also get rid of them on the second-hand market. And honestly: Get yourself a hardtail. You really can´t go wrong with them, as they're really solid and good fun in this price range.
Here we have a complete buying guide for beginners bikes.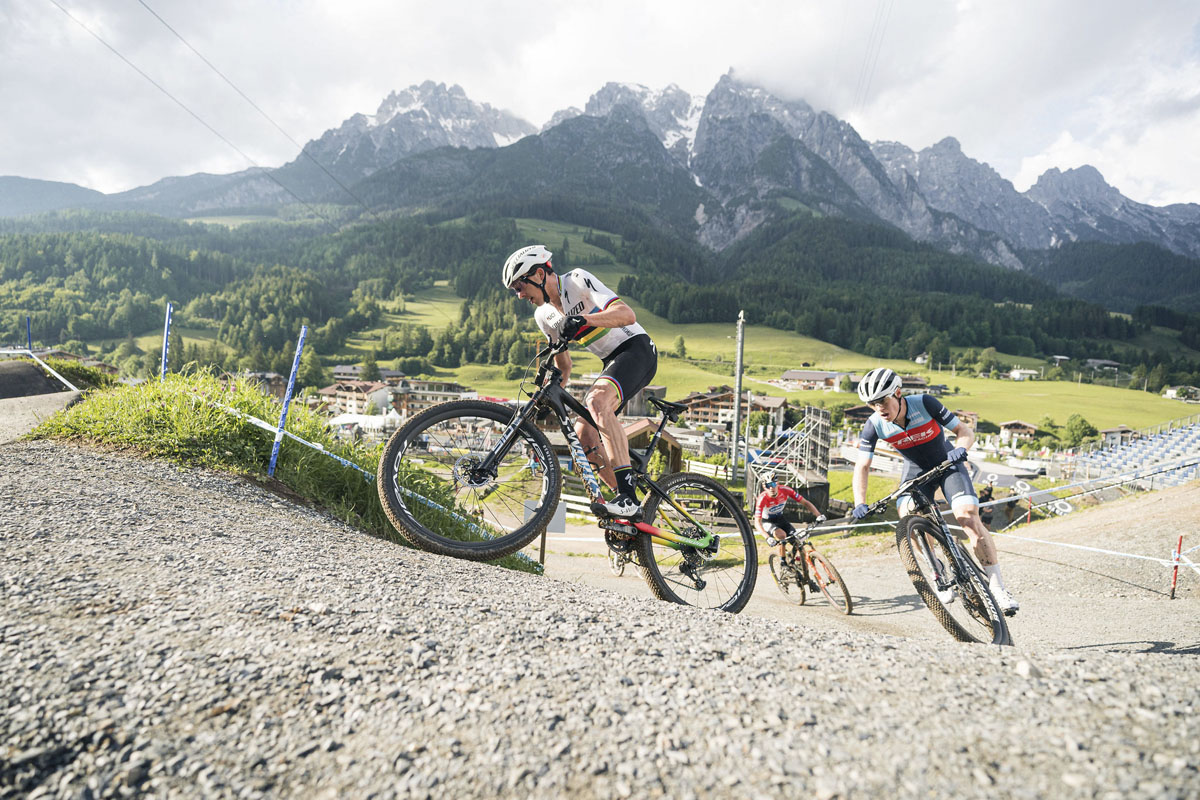 Racebikes
What is the ideal range of use for race fullys or race hardtails?
Race hardtails are the most puristic mountain bikes out there. They are mercilessly trimmed to efficiency and well, racing. With them you go as fast as possible from A to B, if there aren´t any extreme trail sections in between. Because in extreme descents or jumps, these filigree bikes are usually overwhelmed. Race fullys have the same range of use, but with the damper in the rear they offer slightly more comfort on mountain bike tours. Someone who wants to ride cross country, marathon races or mostly gravel roads, will be happy with these bikes. Often race bikes get ridden on alpine crossings.
How much suspension travel does a race bike have?
With a race bike, you generally have the choice between a race fully or race hardtail. The classic race bikes have 100 millimeters of suspension travel on the fork. More and more manufacturers such as Canyon or Giant are also installing suspension forks with 110 millimeters of travel due to increasingly extreme race tracks.
How much does a race bike weigh?
The very lightest race hardtails in the world weigh around 8 kilos, but they are also pricey. With around 10 kilos, however, you are still competitive in races. Racefullys weigh a little more because of the damper in the rear. Here it is difficult to get a model under 10 kilos. Most race bikes weigh between 10 and 11.5 kilos.
What does a race bike cost?
For hardtails, you can get good bikes with carbon frames for as little as 1500 €. From 2000 €, the carbon frame is the standard. The top models cost 6000 € and more. Race fullys are extremely expensive. A Race fully actually only makes sense if you are willing to spend over 3000 €. Below this price limit, Race fullys are usually too heavy for their intended use, which is why we usually advise a hardtail here.
What should you look for in a race bike?
The weight. Light, good wheels and the frame are particularly important for a race bike. In addition, the chassis should be able to be locked from the handlebars. Also, 29er tires have become established in the race bike sector.
We worked out a specific buying guide for racebikes here.
Downcountry Bike – what is that?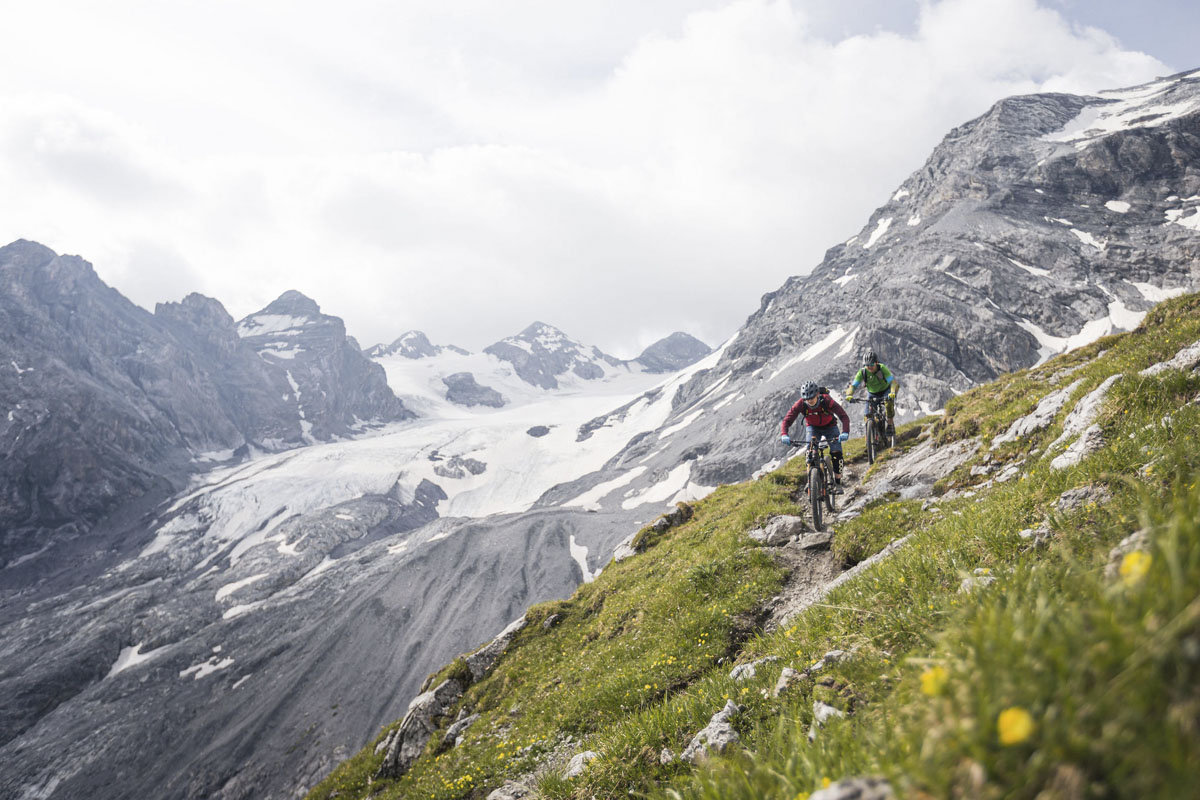 What is a downcountry bike?
A downcountry bike is a slightly chunkier race fully. In the vast majority of downcountry bikes, the frame of a racefully was tuned with a suspension fork of 120 millimeters and a dropper post, for more riding fun on the trail. So these mountain bikes are perfect for alpine crossings, or long tours with moderately difficult trails.
How much suspension travel does a downcountry bike have?
Usually, a downcountry bike has 120 millimeters of travel at the fork. Mostly Fox 34sc forks or Rock Shox SID forks are installed. Downcountry bikes are always fullys. In the rear, the suspension travel can vary between 100 and 125 millimeters.
How heavy is a downcountry bike?
The weight of a downcountry bike is one of the most important differences from a trail bike. This is because a good downcountry bike weighs only minimally less than a race fully. Most models weigh between 11.5 and 13 kilos.
What does a good downcountry bike cost?
A downcounty bike usually costs over 3000 €. Under this price limit, you´ll hardly find a suitable one. From 4500 €, there are really good downcountry bikes. There is almost no upper price limit, especially with improved components.
What makes for a good downcountry bike?
A downcountry bike lives from its light-footed approach. Low weight and good rolling tires provide a lot of fun on long tours. The dropper post and the slightly longer and thicker fork provide joy on the single trail. Most models have a carbon frame. 29er wheels are mandatory for this type of mountain bike. Downcountry bikes are the shit. If you are interested in them just click here for more detailed information. 
Trailbikes
Trail bikes – the right bike for an alpine crossing?
In principle, a trail bike is a fully with which you can ride mountain bike tours. Trail bikes are known and loved as allrounders among mountain bikers. You can ride an alpine cross with them. Climbs of 1000 meters of altitude and more are just as conquerable as technical descents. They share almost the same climbing capabilities as downcountry bikes and ride down the hill pretty much as well as enduros. Trail bikes are allrounders, not specialists.
How much suspension travel does a trail bike have?
Classic trail bikes have 130 millimeters of travel at the front and rear.
How much can a trail bike weigh?
There are super light trail bikes weighing around 11 kilos. But these are usually super pricey. A good trail bike usually weighs 12.5 to 13.5 kilos.
What does a good trail bike cost?
Trail bikes are available from 2000 €. The fun increases if you can spend 3000 € and more.
This characterizes a good trail bike:
A good trail bike has a dropper post, grippy tires like Schwalbe Nobby Nic or Maxxis Forekaster and a decent braking system. Sluggish tires or a high total weight, on the other hand, reduce the riding pleasure on tours.
Searchung for a Trailbike? We got the best models of the season here.
All Mountain Bikes – the new Enduros
All mountain bikes are slowly but surely outranking enduro bikes. Because while Enduro MTBs are becoming increasingly downhill-heavy, All Mountains with similar downhill skills still maintain the same possibilities as enduros. Those who want to incorporate gnarly trails into their mountain bike tours will be happy with an all mountain bike.
How much suspension travel do all-mountain bikes have?
All mountain bikes have between 140 and 155 millimeters of suspension travel at the fork and in the rear. Typical suspension forks are the Fox 36 or the Rock Shox Lyrik. Shocks with a reservoir are usually installed in the rear.
What is the maximum weight of an all-mountain MTB?
A good all mountain weighs less than 14.5 kilos. Only then will you conquer longer tours in mountainous regions without being completely knackered at the end of the day.
What does a good all mountain bike cost?
It is not easy to combine low weight with good downhill performance. That's why good all-mountain bikes usually cost well over 3000 €.
What should I look for in an all-mountain bike?
Tires with a pronounced profile (Schwalbe Magic Marry, Maxxis High Roller, Dissector…) , wide rims (30 millimeters) and a good suspension are extremely important for a good all mountain. The telescopic post, a stem with a maximum length of 60 millimeters and strong brakes are essential to this type of mountain bike.
We did the biggest review of all mountain bikes in the world. Just find the right bike here.
Enduro MTB
Why do you need an Enduro MTB?
If you want to let it rip downhill you need an Enduro. No trail is too difficult for these bikes. Even bike park use is possible.
How much travel does an Enduro have?
For years, Enduros had 160 millimeters of travel. But now there are also many models with up to 180 millimeters of travel.
How much does an Enduro weigh?
Modern enduros are heavy. Even expensive bikes often weigh more than 15 kilos. With more than 16 kilos, however, the fun definitely stops.
What does a good Enduro cost?
Direct distributers and price conscious brands like Cube already offer good enduros around 3000 €. Often, however, you have to put over 4000 € on the table to get a good enduro bike.
What do you have to look for in a Enduro MTB?
Stable tires, with an extra puncture protection layer (EXO+, Super Gravity …) strong brakes with four pistons and a good chassis, as well as a successful geometry are important so that an enduro bike is really fun on the trail.
Enduros are amazing. If you are still looking for one, just check our big enduro review.
Downhill Bikes
The ideal range of use of downhill bikes
Downhill bikes are built to get down the mountain as fast as possible. To get uphill, you need a lift, a shuttle or you have to push your downhill bike. It really doesn´t want to ride up.
How much suspension travel does a downhill bike have?
A downhill bike has a double-bridge fork with 200 millimeters of suspension travel. In the rear, it can also be up to 240 millimeters of travel.
What do downhill bikes weigh?
The weight of downhill bikes is of secondary importance. Top models weigh around 15 kilos. Cheaper downhillers are around 17 kilos and more on the scale.
How much do you have to spend on a good downhiller?
Under 3000 € there is almost no downhill bike on the market. A few models between 3000 and 4000 € are basic, but enough to ride them properly in the bike park.
What makes a downhill bike?
The double bridge fork and shock with reservoir, solid tires and a chain guide are mandatory for every downhiller. Steel spring elements are often used. There are models with both 29er and 27.5 inch wheels.
CONCLUSION on the various MTB CATEGORIES
"How much fun you will have biking does not primarily depend on how much money you want to spend on your mountain bike. It's much more important that you buy a mountain bike that's perfect for your individual purpose. For many bikers, fun in the descent is the main aim. However, you should be aware that you also have to haul the long suspension travel of an enduro or all-mountain uphill. In addition, it takes extreme routes to exploit the potential of these downhill-hungry bikes. So when looking at the bigger picture, a trail bike is often the best choice."
In this article, author Ludwig Döhl has incorporated his experience of over 100,000 kilometers in the mountain bike saddle.